Book an Appointment
Tel: 01 286 2035. For enquiries email reception@braymedicalcentre.ie
Consultations are by appointment – please phone to arrange.
Interactive Google Map
Map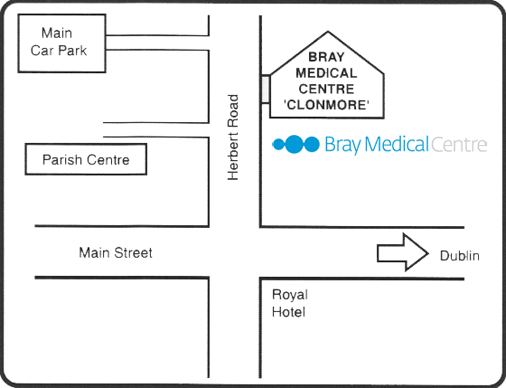 Opening Hours
Monday to Friday 8.00am to 5.30pm.  Home visits are strictly limited to medical need; a better and timelier service is delivered through attendance at the surgery.
Parking for families and the elderly is available at the Practice.
After Hours Service
We provide 24 hour care to our patients through Doctor on Duty. For out-of-hours emergencies telephone 01 453 9333.
Fees
Charges are based on the service provided, our general consultation charge is €60.00. We accept payment by laser and credit card.